Treasure Valley's air quality was placed in the 'orange' category on Saturday. Sensitive individuals are urged to limit outdoor time.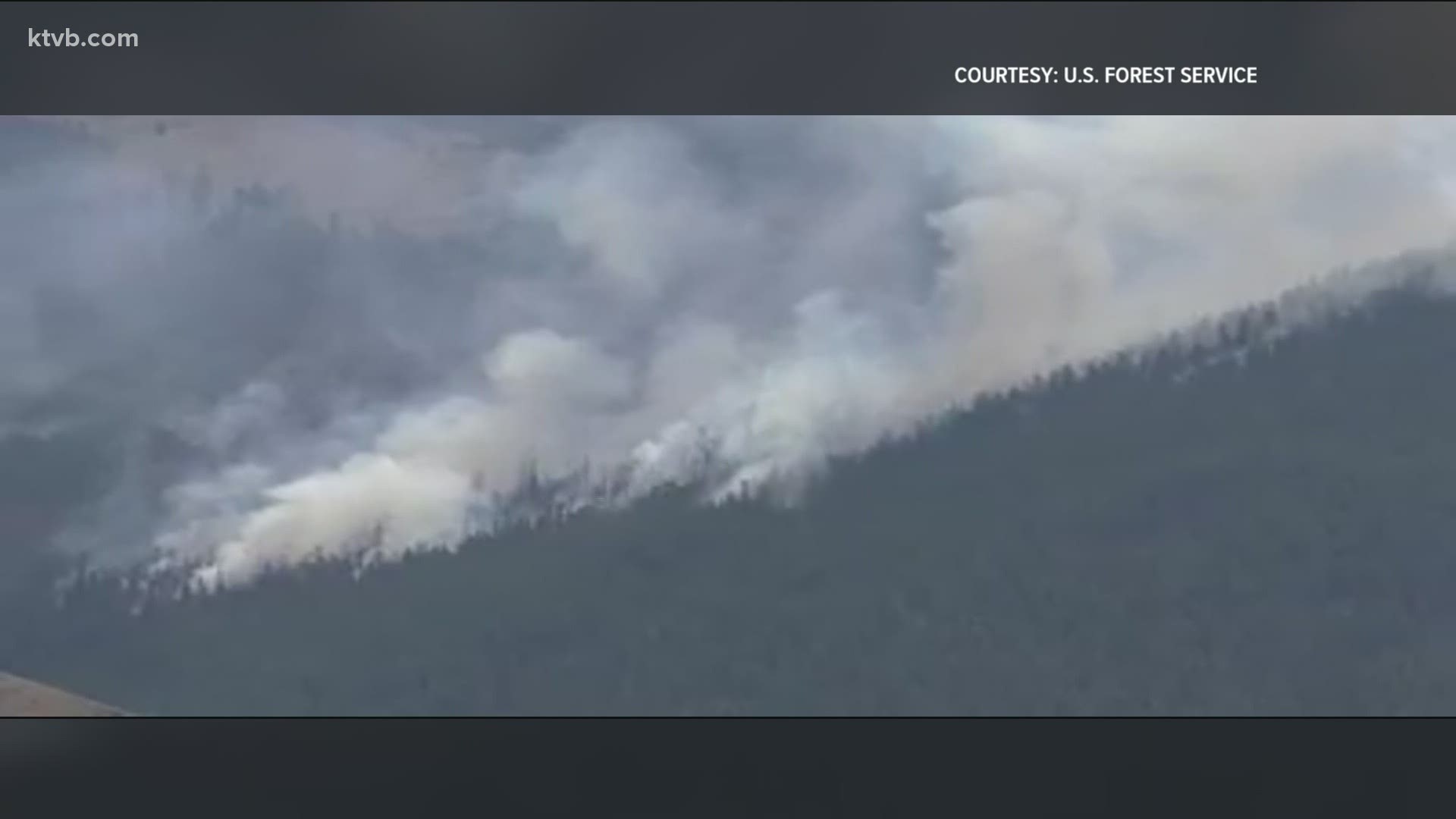 BOISE, Idaho — Hot temperatures and relatively low humidity continue to fuel more wildfires in Idaho and portions of eastern Oregon. Here is a list of some of the bigger ones that are filling the skies above with smoke.
Indian Creek Fire
Updated on August 23, 10:28 a.m.
Fire crews are working hard to suppress and contain the fire's progression to the northwest and northeast. Contingency lines are in place.
As of Sunday, the fire has burned 48,942 acres with 20% containment. A mapping variance resulted in a fire acreage adjustment from August 22.
Heavy smoke is also affecting air support flights in the daytime. It is still being utilized where conditions allow.
It is located about nine miles east of Juntura, Oregon.
The fire is believed to be human-caused. It started on Aug. 16.
Most of the smoke has blown in from wildfires in California. Fire crews suspect it will linger through next week until a change in weather may clear it.
Burnout operations on Thursday reinforced primary contingency lines around the Becker Roundhouse located near the northeast corner of the fire. Crews are working to extend those lines to tie into the southeast corner of the fire, a much more controlled area.
Approximately 30,000 acres of the fire is located within critical sage-grouse habitat.
Temperatures are expected to rise Sunday, with mild winds 5-10 miles per hour along the ridge tops in the evening. Smoke could affect conditions by lowering temperatures and moderating fire conditions, crews say.
Beware of increased traffic on Highway 20 between Burns and Vale, and along Harper-Westfall Road as resources move into position around the fire perimeter. Motorists should expect to encounter slower-moving heavy equipment and vehicles entering and leaving the roadway.
Fire restrictions are in effect on BLM lands including a ban on campfires and open flames, driving or parking on dry vegetation, and operating equipment or engaging in activities that could create a spark.
Bear Creek Fire
Updated on August 23, 8:57 a.m.
Fire crews announced on Sunday the Bear Creek Fire is now 50% contained and is currently burning 10,275 acres.
The fire is burning in timber and heavy fuels in the Lemhi Pass area about 29 miles east of Salmon, Idaho.
Resources currently being utilized to contain the fire include six Type 2 IA crews, two Type 1 crews, 12 engines and 411 total personnel.
Crews working Sunday plan to conduct strategic burnout operations in the area between the active fire edge and the Continental Divide if conditions allow. They will also reinforce and hold the line along previous operations. Suppression repair will continue east of the fire.
Operators on the south side of the fire will spend the day patrolling the area and reinforcing containment lines
Hunters should check Inciweb and/or call for closure information and maps.
Lemhi Pass Road is closed from its junction with Montana Highway 324 to Lemhi Pass. The public is strongly encouraged to stay away from the area due to heavy fire traffic.
Muldoon Fire
Fire activity on the Muldoon Fire burning about 20 miles southwest of Mackay has slowed significantly.
The fire has charred 374 acres and is now 75 percent contained. It was first detected on Aug. 16. The cause remains under investigation.
There are 89 personnel assigned to the Muldoon Fire.
The fire is smoldering and creeping with isolated torching. Heat in the interior of the fire remains, the visitors to the area will continue to see smoke and trees torching but this fire activity is well within the interior of the fire and not near the control lines.
Near record high temperatures are possible this weekend. Moisture begins to increase Monday with a chance for scattered thunderstorms Tuesday.
Firefighters will continue to staff the fire for the next several days and will continue to monitor the fire in the coming weeks.
There will not be any further updates unless significant activity occurs.
Stage I fire restrictions are in effect for the Salmon-Challis National Forest.
All Forest Service lands (outside of the Frank Church River of No Return Wilderness and Jim McClure Jerry Peak Wilderness) within the Salmon-Challis National Forest are in Stage I restrictions.
Stage 1 fire restrictions apply to campfires and smoking. Under Stage 1 restrictions, the following acts are prohibited:
1. Igniting, building, maintaining, attending or using a fire outside a fire structure that is provided by the agency.
2. Smoking outside an enclosed vehicle or building.
Exceptions to the above Stage 1 prohibitions include the following:
1. Persons with a special use authorization, other Forest Service authorization, or a written permit specifically exempting them from the effect of the order
2. Persons using a stove or grill that is fueled solely by liquid petroleum fuels
3. Persons using a stove fire (defined in the order)
4. Persons using metal fire pans within ¼ mile of the of the south side of the Main Salmon River
5. Persons smoking while stopped in an area at least three feet in diameter that is clear of all flammable materials
6. Any federal, state, or local officer or member of an organized rescue or firefighting force in the performance of an official duty
Under these restrictions, campfires are allowed only in recreation sites within metal/concrete fire pits. The restrictions will remain in effect until there is a significant change in fire danger.
Copeland Fire
Fire crews continue to make good progress on the Copeland Fire burning about five miles east of McCall. The fire is remaining in place over the 91 acres it occupies.
Additional crews are arriving on the scene today to assist in containment efforts.
Cooler temperatures and higher humidities in the area have helped firefighting efforts. A warming trend is expected through the weekend. Dry conditions are expected through Tuesday.
Resources engaged in active suppression actions include multiple helicopters, aircraft, engines, a dozer, and 220 firefighters.
Valley County Sheriff has issued a road closure on county road 50403, the Boulder Lake Road at the intersection with Morrell Road.
All recreationists are urged to avoid this area due to the danger of the fire, firefighter traffic, and aircraft dropping water and retardant. Do not access these areas from Potter Lane, Paddy Flat Road, or other accesses, as this creates a safety issue for both the public and firefighters.
Lightning ignited several smaller fires in the region, but fire managers say most of those are contained and controlled.
A reminder - use of unauthorized drones in a fire area endangers the lives of pilots and firefighters. Never fly unmanned aircraft over or near a fire.
This is a developing story and will be updated as new information becomes available.